This update is scheduled to be release to production between 7:00 and 9:00 PM EST on Wednesday, March 23rd. Please note that these items are a list of bug fixes and enhancements that affect our platform as a whole, and do not include every organizational-specific change.
Features:
Private Chat
When this feature is enabled, group session participants will be able to send a direct chat to one specific attendee without sending it to the others in the session. This is designed to help provider and admin user types manage attendees in group sessions.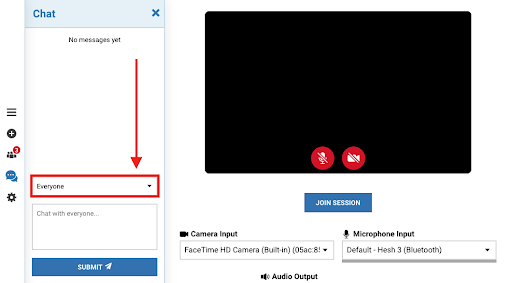 To send a Private Chat, select a specific participant to direct-message from the drop down list in the chat tab.
Each message will indicate who it is from, and whether or not is a private message or a general message to everyone
To send a message to everyone in the session after direct-messaging a particular attendee, select "Everyone" from the drop down list.

A provider or Admin can send a private chat to anyone else in the session.

Patients can only send a private chat to a provider or admin user type. They cannot send a chat to other patients.

Private chat will be off by default. Please contact VisuWell support if you are interested in adding this feature for your organization.
Mute All Button
This feature will add a "Mute All'' button on the attendees tab in the video session allowing provider or admin user types to mute the microphones for all attendees in the session to help manage potential audio interruptions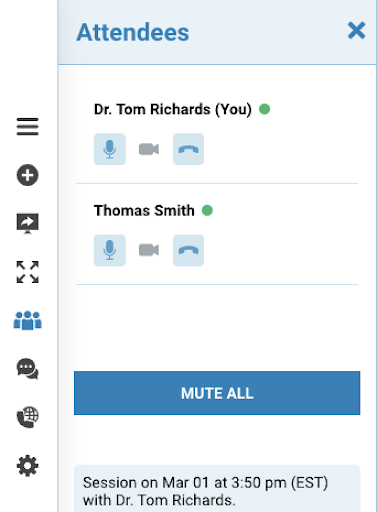 Session attendees who are muted will see that they are muted and can unmute themselves. When a provider mutes everyone, they will receive a toast message confirming:
When an attendee is muted they will receive a notification that they have been muted by the provider:
Option to allow users to log into multiple browsers at the same time
This feature is designed to improve workflows using content redirection where a user may need to be logged into multiple browsers at the same time
This will also allow two users to be logged into the same account on two different devices
This feature will be off by default, contact support if you are interested in adding this to your organization
Enhancements:
Desktop notifications for session chat
This feature allows session attendees to receive a desktop notification if they are sent a chat message and are not active on the video session page

When an attendee joins a session they will see a prompt asking them to allow Browser notifications. The url shown below will reflect your branded organization's portal url.

If allowed, this will allow the attendee to see chat notifications on their desktop when they receive a new message, even if they are not active on the session page
This is intended to help attendees see new notifications even if they are not active in the session

They can turn notifications off or on at anytime in their browser settings by clicking on the lock icon next to the url at the top of the page and adjusting the toggle next to the notifications setting
Attendee name added to their video feed.
The name of each attendee will now show on the top left corner of their video feed.
This is intended to help participants more quickly identify each attendee in a group session
Ability to click and drag PTZ controls to a different location
If a session participant has VIsuWell's Pan-Tilt-Zoom far-end camera control application and browser extension installed, the camera controls will appear in the session for all attendees
This update will allow attendees to click and drag the PTZ camera controls to a different location in the video session to keep the controls from blocking the camera feed.
Adding Schedule Button to Home Page for Scheduler User Types
Scheduler User Types will now see the "Schedule" button on their homepage.

This will allow them to open the scheduling model with one click after first logging in
Bug Fixes:
Update to keep Admin on the User Management page after changing a provider's on call status
When an Admin changes the on-call status for providers in an On-Demand organization, they will no longer be redirected back to the home page. Instead, they will stay on the User Management page.