This release will go into effect on the night of 03/19/21. These notes only include new and improved features across the platform. For bug fixes and performance enhancements specific to your organization, please contact Visuwell customer support.
New + Improved
This product release primarily includes better documentation and notifications around Video Sessions in our Advanced Video Solution, including who is in the session and the strength of the internet connection.
For all future technical support requests please email support@visuwell.io or create an account In our help desk.
Poor Internet Notifications
Users in the Advanced Video Solution will now be notified when they experience bad network connectivity in a video session. These notifications will appear at the top of the page above the video feed.
All user types will see these notifications on mobile and desktop devices, when prompted by their own internet connectivity. At this time users will not be able to see notifications for other attendees experiencing internet issues.
Notification for OK network quality:

"Your Internet is struggling. This could cause issues with your call quality"
Notification for BAD network quality

:

"Your internet speed has dropped below the minimum required for a video session. You may experience issues in the call quality."
Example:
Icons for Attendees in Pre-Session and Session pages
All users will now have the ability to see who has already joined the video session in the pre-session page, before they click "Start Session".

Mobile App Feature Removed
Due to customer feedback, we are removing the "Use App for Session" button from our Video Sessions on Mobile Devices. The Pexip Infinity App will no longer be available on our Video Platform.
Cancelled Sessions Filtered Out of Session List
Cancelled sessions will no longer show up by default on a Provider's Session List. They can still be seen by adding them as a filter when viewing the Session List page.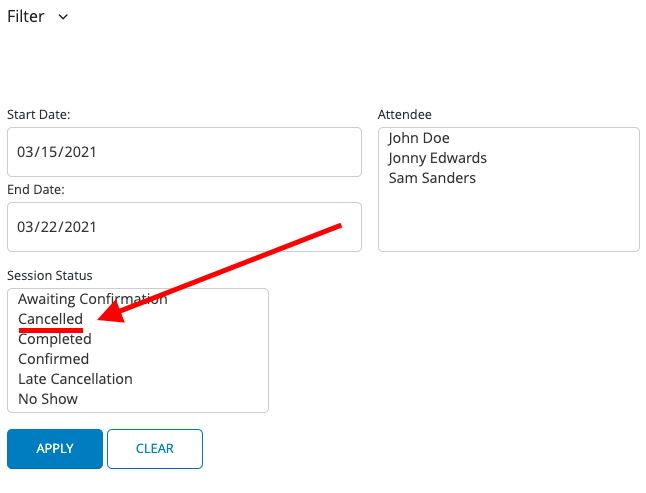 Improved Session Scheduler
We are switching all organizations to the updated session scheduler on 3/17/21. This new scheduler allows the search bar to auto populate users as you type. Click here for a detailed look.
*This only effects scheduling done through our platform. EMR related session scheduling will not change.